How To Change a Flat Tire

Knowing how to change a flat tire is a skill every Philadelphia area driver should have. A flat tire can be frustrating, but with some knowledge of how to change one, you'll never have the feeling of being stranded. While a cell phone is helpful to carry with you, it's possible you might forget to charge it or have a hard time getting in touch with roadside assistance.
Changing a tire isn't a difficult task. Faulkner Nissan Jenkintown is taking a closer look at how to change a flat tire in Jenkintown, Abington, and Glenside.
SAFELY CHANGING A FLAT TIRE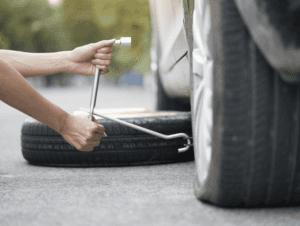 If possible, the first thing you should do is find a safe place to park the car. A parking lot is a great place to be, but avoid dirt and grass if you can, as the jack may not be stable and could sink. Turn the car off and put the emergency brake on.
Your owner's manual should tell you where the jack, spare tire, and other tire tools might be if they haven't been used before. If your car has a hubcap, remove it using the jack handle or a lug wrench. The lug wrench will loosen the lug nuts, too. Don't remove them, and just keep them loose. The owner's manual will tell you the best place to secure the jack. The car should be up at least six inches. Lower the car if you notice any instability.
The lug wrench should then be used to remove the lug nuts. Place them in a safe spot where they won't be lost. Take the wheel off and put it aside.
COMPLETING THE TIRE CHANGE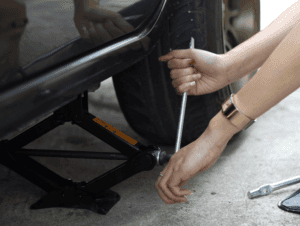 Use both hands to take the flat tire off. Place the tire under the vehicle, just in the case the jack drops the car. The spare tire should be placed in front of the wheel well and then aligned with the wheel bolts. Place the lug nuts back on, and turn them clockwise as tight as you possible can.
The wrench should be used to turn the bolt as tight as can be to secure the tire before lowering it. Don't tighten it completely. Bring the car back down to the ground, removing the jack. Then tighten the lug nuts, and you're all done.
SHOP OUR TIRE INVENTORY
Regular tire maintenance can protect your tires in the long run. Always remember to keep tires properly inflated, have them rotated according to manufacturer recommendations, and monitor any tread wear.
If you do not have a spare tire or the spare tire is only a temporary one, it's possible you may need to 
shop for a new tire
. We carry tires from well-known manufacturers, and will find the right ones for your car.