Nissan Armada vs Toyota Sequoia

Families throughout Jenkintown, Abington, Glenside, and Philadelphia looking for a SUV should consider reading through this Nissan Armada vs. Toyota Sequoia comparison. Each of these models receive rave reviews from past drivers as well as professional critics, but which SUV comes out on top in a head-to-head match-up?
A few of the topics we'll be discussing includes towing capacity, performance, and safety. If you have any further questions, contact Faulkner Nissan Jenkintown!
NISSAN ARMADA VS TOYOTA SEQUOIA: PERFORMANCE SPECS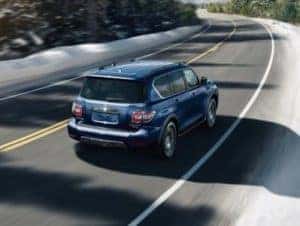 When discussing performance, power, and handling, it's fair to say the Nissan Armada and Toyota Sequoia both excel. However, there is a slight edge in favor of the Armada thanks to some impressive engine specifications.
For instance, the Armada sports a 5.6L V8 engine that can generate a sturdy 390 horsepower. This engine is also flush with additional features like the Nissan Direct Ignition System, Iridium-Tipped Spark Plugs, and an electronic drive-by-wire throttle.
The Armada also features a highly refined 7-speed automatic transmission with manual shift mode, for added control and downshift rev matching.
As we get into the Toyota Sequoia, we find a slight downtick in power as the 5.7L V8 engine produces 381 horsepower.
There's also a noticeable gap between additional features, and the Sequoia comes with just a standard 6-speed electronically controlled transmission.
TOWING CAPACITY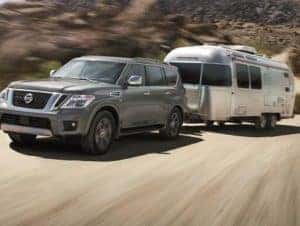 Strength is a primary trait for both the Nissan Armada and Toyota Sequoia, yet the Armada is better-equipped to haul your trailer up to the campground for a long weekend.
The overall power of the Armada is reflected in exact measurements like the maximum towing capacity, which checks in at 8,500 pounds. On top of that, the 1,724 pounds of maximum payload gives you even more options when prepping for a long road trip.
In comparison, the Toyota Sequoia offers just 7,400 pounds of maximum towing capacity, and a payload that tops out at 1,405 pounds.
SAFETY FEATURES
The cavernous space found in the Toyota Sequoia and Nissan Armada is made even more appealing thanks to the various safety features that come in each SUV.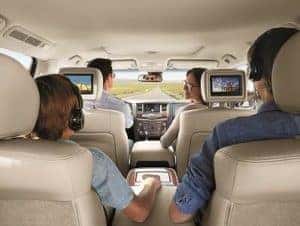 For example, the Armada sports technology like Lane Departure Warning, so you don't begin to accidently sway from your respective lane, Intelligent Lane Intervention, which will guide your vehicle back into the right lane if you begin to drift without a turn signal, and Intelligent Back-Up Intervention, which helps you avoid obstacles when reversing.
This is just the tip of the iceberg, however. There's a long list of additional safety features as well, like Automatic Emergency Braking, Intelligent Forward Collision Warning, Blind Spot Warning, Active Brake Limited Slip, and an energy-absorbing steering column.
When we compare these features to the set up in the Sequoia, we find the Armada offers a more diverse range of safety possibilities and also features more standard systems as well.
NISSAN ARMADA VS TOYOTA SEQUOIA: CONCLUSION
When compared head-to-head, the Nissan Armada gets the edge over the Toyota Sequoia thanks to superior performance, strength, and safety. If you think this SUV is right for your family, then contact Faulkner Nissan Jenkintown now!
We'll answer any of your remaining questions and set up your 
test drive
 around Jenkintown, Abington, Glenside, and Philadelphia.