Nissan Maxima vs Honda Accord

Are your regular commutes around Jenkintown, Abington, Glenside, and Philadelphia in need of an upgrade? If so, our Faulkner Nissan Jenkintown team has developed the following 2018 Nissan Maxima vs. Honda Accord comparison to provide you with two noteworthy options. We invite you to take a moment to sink your teeth into the information below so as to determine which vehicle has what it takes to meet your needs and sensibilities.
NISSAN MAXIMA VS HONDA ACCORD COMPARISON: CONVENIENCE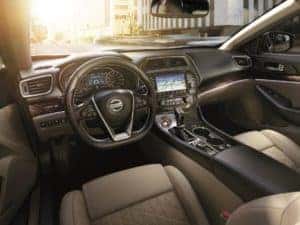 Both of these sedans have several convenient aspects worth mentioning. For instance, both make use of Remote Engine Start, allowing you to ensure the engine is warmed up and ready to hit the road in the event you're running late.
Remote Engine Start, which is standard in the Maxima and available in the Accord, is combined with a little something extra in the Nissan vehicle. The Maxima uses Intelligent Climate Control to let you set your particular preferences ahead of time so that everything's perfect the instant you get in the driver's seat.
The auto-dimming driver-side outside mirror is another convenient feature that's available in the Maxima but not in the Accord. This handy tool protects you from becoming momentarily blinded from behind by the headlights of approaching vehicles.
MAXIMA VS ACCORD: A LOOK UNDER THE HOOD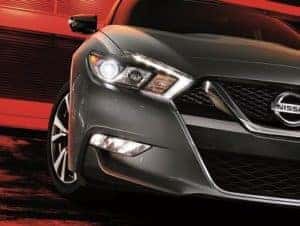 When considering what these impressive automobiles have to offer in terms of performance, you'll find a few more differences between the two. Inside 
the Nissan Maxima
, for example, you'll find a 3.5L V6 engine that pumps out a robust 300 horsepower along with its 261 lb-ft of torque. Over in the Honda Accord, you'll find the standard 1.5L turbo 4-cylinder engine that offers a less commanding 192 horsepower and 192 lb-ft of torque.
NISSAN MAXIMA VS HONDA ACCORD: EXTERIOR SPECS
While the Maxima and Accord are midsize sedans that seem quite similar in size, there are actually some distinct differences that end up favoring the Maxima. The measurements to consider here are the overall width and height. In terms of the Nissan Maxima, its width is 73.2 inches and its height is 56.5 inches. The Accord is 73.3 inches wide and 57.1 inches tall.
As these specs reveal, the 2018 Nissan Maxima is slightly more compact than the Honda Accord. This fact, coupled with the Maxima's curb weight of 3,482 pounds vs. the Accord's 3,131 pounds, means the Maxima is able to corner with enhanced control while maintaining stability through those tight city turns.
CHECK OUT THE NISSAN MAXIMA FOR YOURSELF
While the 2018 Nissan Maxima and Honda Accord appear to be neck and neck in most respects, this comparison reveals a few crucial differences in the categories of convenience, engine capabilities, and exterior dimensions that set the Maxima above its competition.
If you're near Jenkintown, Abington, Glenside, and Philadelphia and you're interested in taking the Maxima out for a spin, contact Faulkner Nissan Jenkintown. Experience all the above attributes and discover even more by 
scheduling your test drive today
!