Nissan Pathfinder vs Ford Explorer

In the world of 7-passenger SUVs, the 2019 Nissan Pathfinder and 2019 Ford Explorer are stand outs. With space for the whole family or all your cargo and great handling around the roads of Jenkintown, Abington, Glenside, and Philadelphia, there is a lot to like about both models.
There are some differences between these two SUVs though, which our team at Faulkner Nissan Jenkintown have detailed below in this comparison of the Nissan Pathfinder vs. Ford Explorer.
Features That Will Enhance Your Comfort
The 2019 Nissan Pathfinder comes with more amenities than the Ford Explorer—features that give everyone inside an enjoyable time while riding around in this SUV.
The 2019 Explorer also has some nice features to keep you comfortable, like the available dual-zone electronic automatic temperature control, available heated steering wheel, and available climate-controlled front seats.
You can also get available climate-controlled front seats in the 2019 Pathfinder to help you cool off or stay warm depending on the season. It also has an available heated steering wheel, which is great for those chilly mornings while driving to work or dropping the kids off at school.
The Pathfinder though comes standard with its automatic temperature control system. This system also has three zones, compared to the two zones available in the Ford Explorer. This will give your rear passengers personal control over the system as well.
Towing Capacity of the 2019 Pathfinder vs 2019 Explorer
Within both SUVs, you will be able to use the interior space to carry various cargo with you. Fit groceries and other items you got while out running errands behind the third row. You can also fold down the 2nd– and 3rd-row seats and use the space to bring along small furniture or your bike to head out for a ride.
When it comes time to take along larger and heavier gear, each of these vehicles lets you hitch up your trailer and tow these items that won't fit inside the cabin. The Ford Explorer has the ability to pull along up to 5,000 pounds. Carry more and heavier equipment with the Nissan Pathfinder. This SUV can tow up to 6,000 pounds, which makes it easier to take your camper or boat out with you.*
Let Everyone Choose Their Entertainment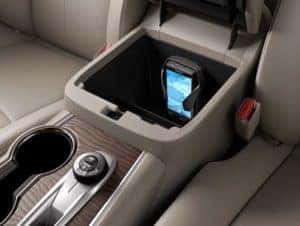 Inside the 2019 Nissan Pathfinder, everyone won't have to fight over control of the entertainment. With the available Tri-Zone Entertainment System, you can be your own personal DJ up front and listen to the music from your phone through the vehicle's audio system.
Then in the back, your rear passengers can each control their dual 8-inch monitors. If one of them wants to watch a movie, the other can play a video game on the other screen. All the while, you can continue to listen to your music, podcast, or audiobook without being interrupted by their sound since they each will have a wireless headset paired to the separate monitors.
With this available system, longer car rides to visit family during the holidays or road trips for family vacation are much more enjoyable. The 2019 Explorer doesn't offer the same range of personalized options when it comes to keeping everyone entertained.
Come Check Out the 2019 Pathfinder
Now that you've read the Nissan Pathfinder vs. Ford Explorer comparison, you may have an easier time picking the model that is right for you. Whether you need stronger towing capabilities or want the latest technology features available, the 2019 Nissan Pathfinder will have what you need for your drives around Jenkintown, Abington, Glenside, and Philadelphia.
Stop by Faulkner Nissan Jenkintown today to come see our inventory of Nissan Pathfinder SUVs and let our team help you figure out which trim level you should get!
*Please follow Towing Guidelines. Towing capability varies by configuration. See Nissan Towing Guide and Owner's Manual for additional information.