Nissan Rogue Dashboard Lights


The Nissan Rogue is a modern SUV that features a long list of intuitive driver-assist technologies including a simple set of dashboard symbols. These symbols are designed to communicate important information to alert you to any serious issues and help keep you safe on the road.
At Faulkner Nissan Jenkintown, our team is dedicated to helping drivers throughout Jenkintown, Abington, and Glenside understand their SUV's full capabilities. That's why we created this guide to the Nissan Rogue dashboard lights, so you'll know what certain lights mean and the steps to take should they appear.
NISSAN ROGUE DASHBOARD LIGHTS: WARNINGS VS INDICATORS
The complex system of symbols on your vehicle's dashboard can generally be divided into two categories: warning lights and indicator lights.
Warning lights appear in either yellow or red and show up when a serious or critical issue has been detected somewhere on your vehicle. Warning lights are not to be taken lightly and should be heeded as soon as you notice one pop up. Doing so can help mitigate any further damage and keep you from avoiding costly repair or an accident.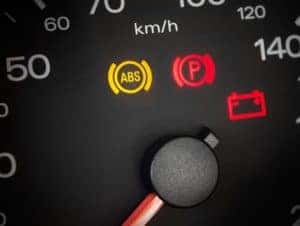 Indicator lights
 on the other hand, appear as either white, blue, or green, and alert you when a normal vehicle function is engaged. These can range from your turn signal to the Rogue cruise control system. These symbols should not cause any concern, but are good to understand and recognize.
NISSAN ROGUE WARNING LIGHTS
To learn the full scope of warning symbols, we suggest consulting your Rogue owner's manual. While there's a good chance you won't encounter the vast majority of them, there are a few common warning symbols to watch out for including:
Low Fuel Warning Light. This symbol looks like a gas pump and alerts you when your fuel tank is close to empty. Immediately head toward the nearest gas station to avoid running out of gas.
Engine Oil Pressure Light. This symbol looks like a dripping oil can and alerts you when the oil level in your engine dips below a safe level. Ignoring this symbol can result in your engine quickly overheating.
Charge Warning Light. This symbol looks like the top of a battery and alerts you when either the alternator or some other important electrical component isn't receiving the correct power level. DO NOT turn off your engine until you can reach a service center.
Malfunction Indicator Light. Also known as the "check engine light," this symbol looks like the profile of an engine and appears when your Onboard Diagnostic System detects an issue with your vehicle's emissions.
Tire Pressure Monitoring Light. This symbol looks like an exclamation point inside a horseshoe and appears when at least one of your tires has dangerously low air pressure.
LEARN MORE ABOUT NISSAN ROGUE DASHBOARD LIGHTS TODAY!
If you're currently living near Jenkintown, Abington, or Glenside and have questions about a certain light appearing on your Rogue dash, don't hesitate to stop by our service center or 
contact Faulkner Nissan Jenkintown
.
Staffed by a team of friendly and highly-skilled technicians, we can quickly identify any potential issues you're facing and get you back on the road in no time.