Nissan Rogue Sport vs Toyota RAV4

If you're in the Jenkintown, Abington, Glenside, or Philadelphia area, you likely appreciate the benefits of a dependable compact SUV. However, with such a saturated market of seemingly impressive models, how do you know which one is the best for your adventures and daily commutes?
Though many crossovers are available, two that top the charts are the 2020 Nissan Rogue and Toyota RAV4. Popular, versatile, and ready to elevate your travels, these models are sure to bring joy while at the wheel.
Our team here at Faulkner Nissan Jenkintown has created this Nissan Rogue Sport vs. Toyota RAV4 comparison to present you with what these crossovers have to offer. Continue reading to get a clear picture of both and choose which one will best suit you!
---
2020 Rogue Sport vs 2020 RAV4: Interior Specs
Both the Nissan Rogue Sport and the Toyota RAV4 provide everyone on board with plenty of room, so the lengthier trips are just as comfortable as the quicker jaunts.
Each offers two rows of seating with enough room to easily fit five people, thanks to their 95+ cubic feet of passenger volume. However, those in the front row of the Nissan Rogue Sport will have extra room to stretch out in.
The Rogue Sport delivers ample legroom in the front seats, with 42.8 inches, while the front-row legroom in the RAV4 is a slightly less roomy 41 inches. The theme continues in headroom, with the Rogue Sport offering 39.6 inches in the front , while the RAV4 comes in with only 37.7 inches.
| | | |
| --- | --- | --- |
| Interior Spec | 2020 Nissan Rogue Sport | 2020 Toyota RAV4 |
| Front Headroom | 39.6 inches | 37.7 inches |
| Front Legroom | 42.8 inches | 41 inches |
---
Nissan Rogue Sport vs Toyota Rav4: Overall Size
Another area where the differences between these two SUVs are worth mentioning is in their exterior dimensions. With crossover SUVs, you need enough space to make yourself known on the streets but still have that compact nature that allows you to seamlessly maneuver through traffic and fit into the perfect parking spots.
The Nissan Rogue Sport has a wheelbase of 104.2 inches and an overall length of 172.7 inches. The Rogue Sport is also 72.3 inches wide and 62.5 inches high.
The Toyota RAV4 has a larger wheelbase that comes to 105.9 inches and is considerably longer at 180.9 inches. Its width and height specs are also higher than that of the Rogue Sport, at 73 and 67 inches respectively.
| | | |
| --- | --- | --- |
| Exterior Spec | 2020 Nissan Rogue Sport | 2020 Toyota RAV4 |
| Wheelbase | 104.2 inches | 105.9 inches |
| Length | 172.7 inches | 180.9 inches |
| Width | 72.3 inches | 73 inches |
| Height | 62.5 inches | 67 inches |
As these dimensions express, the Nissan Rogue Sport is notably smaller than the Toyota RAV4. This counts as an advantage on the side of the Rogue Sport.
This crossover's relatively compact stature provides you with more efficient cornering and steering capability when taking the tight turns and curves you often run into with city driving.
---
Rogue Sport vs Rav4: Convenience
Convenience is another high priority when choosing your next vehicle. Luckily, the Nissan and Toyota crossovers deliver streamlined driving. There are some differences that should be noted, though.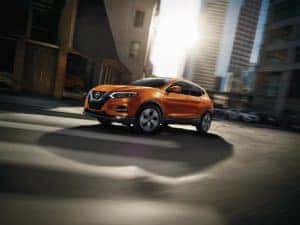 One convenient feature that comes standard in the 2020 Nissan Rogue Sport is the Intelligent Engine Brake. This system takes into consideration how fast you're going and combines that with your steering and braking information. It then adjusts the engine-braking level for a more comfortable driving experience, since you won't have to apply the brakes nearly as much.
The Nissan Rogue Sport also makes use of the Active Ride Control, which is a standard feature that moderates the way the vehicle reacts to bumps in the road to give you a smoother ride.
Finally, the 2020 Nissan Rogue Sport is available with the Divide-N-Hide® Cargo System that allows you to store valuable items in the cargo space, while keeping them out of sight. Unfortunately, not one of these conveniences is available in the 2020 Toyota RAV4.
Check out our new vehicle specials to see how we can help you save on your Nissan Rogue Sport!
---
Nissan vs Toyota: Safety
Looking at the safety of a vehicle is a vital aspect of the shopping process. While comparing the Nissan Rogue Sport with the Toyota RAV4, you'll find each crossover offers a suite of innovating driver-assistive technology that keeps you secure while on the road.
In the 2020 Rogue Sport, this translates to Safety Shield® 360, a standard package of driving aids in every trim level. These use advanced radars and sensors to elevate awareness and prevent collisions, and include the following systems:
Automatic Emergency Braking with Pedestrian Detection
Blind Spot Warning
Lane Departure Warning
High Beam Assist
Rear Cross-Traffic Alert
Rear Automatic Braking
The 2020 RAV4 also comes standard with its own suite of driver-assistive technology, called Toyota Safety Sense™ 2.0. In this package, you'll find similar systems like Pre-Collision with Pedestrian Detection, Lane Departure Alert, and Automatic High Beams.
However, when it comes to protecting the back of your vehicle with blind-spot awareness, rear-cross traffic alert, and rear automatic braking, the RAV4 falls short. None of these features are standard or even available for this model.
---
Nissan Rogue Sport ss Toyota Rav4: The Right Pick for You

Both SUVs give you noteworthy experiences. However, the 2020 Nissan Rogue Sport proves itself to have smarter safety technology, has more convenient features, and is perfectly sized inside and out. However, you don't have to take our word for it.
If you're in Jenkintown, Abington, Glenside, or Philadelphia, PA, and you'd like to get behind the wheel to learn even more about what the Rogue Sport is capable of, visit or contact us at Faulkner Nissan Jenkintown to schedule your test drive today.
Our team will be happy to show off this vehicle to you and your family.
---