What Is Tire Speed Rating?

Tires can tell you a great deal of information, specifically when it comes to speed. It's important to know how fast you can securely travel on a certain set of tires, which is identified by a tire speed rating.
If you travel on specific tires faster than intended, they may not perform as designed. As a result, you may compromise your safety when driving around Jenkintown, Abington, Glenside, or Philadelphia.
Below, we'll tell you exactly what tire speed rating is, why it's important, and how to identify it on your car's tires. Read through our informative guide, and don't hesitate to 
contact Faulkner Nissan Jenkintown
 if you have any questions.
TIRE SPEED RATING: WHAT IT IS & WHY IT WAS ESTABLISHED
Tire speed rating tells you what speed a tire can safely maintain over time. The higher the speed rating, the better control and handling your car will have at higher speeds. But, tires with higher speed ratings can also handle better at slower speeds.
Speed ratings were created to match the speed capability of tires with the top speed of the vehicles to which they're applied. But, it's important to note that these ratings only apply to tires that aren't damaged, underinflated, or overinflated. Plus, if a tire has been punctured and repaired, the speed rating would be altered.
FINDING TIRE SPEED RATING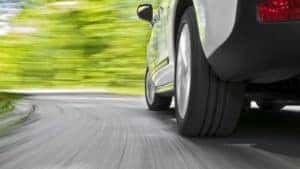 A tire speed rating can be found in one of these places:
• Owner's manual
• Driver's side door jamb
• Gas tank hatch
• Inside glove box door
But, it can also be found on the tire sidewall. Here, you'll find a series of letters and numbers that indicate things like width, aspect ratio, and load index. The speed rating is usually the last letter in this sequence.
So, if you see something like "P225/70R16 91S" on the tire sidewall, "S" would be the speed rating.
SPEED RATING CODES
A speed rating is a single letter that represents a specific speed, and can range from A to Z. The most common tire speed ratings are as follows (as shown by code, maximum speed, and vehicle type):
• T: 118 MPH (sedan or minivan)
• H: 130 MPH (sports sedan/coupe)
• V: 149 MPH (sports car)
• Z: 149+ MPH (sports car – consult manufacturer)
The code "Z" can actually be 149 MPH or 186 MPH. It all depends on the specific tire, so you'll want to refer to your owner's manual for the exact details.
Additionally, the numbers mentioned above are the top speed that the tires can safely maintain. They may be able to reach higher speeds, but going any faster isn't safe. That's because the tires weren't designed to handle the demands.
CONTACT US TO LEARN MORE ABOUT TIRE SPEED RATING
If you're wanting more information on tire speed rating, then contact the tire experts at Faulkner Nissan Jenkintown. We'll answer any questions you have, and also provide any type of tire repair or replacement that your vehicle may need.