Why Are My Brakes Squeaking?

Are you wondering, "Why are my brakes squeaking?" If so, Faulkner Nissan Jenkintown may have the answer. We hear this question a lot from drivers around the greater Philadelphia area who notice a squeaky sound coming from their brake while driving around Abington, Jenkintown, or Glenside.
That's why we put together this quick guide with the five most common reasons your brakes are squeaking.
1. WORN OUT BRAKE PADS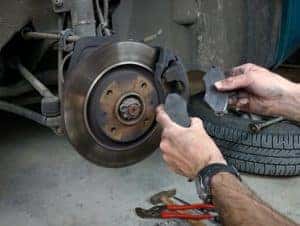 Often, squeaky brakes are caused by brake pads that need to be replaced. This is completely normal since brake pads are designed to wear out over time as the result of friction buildup during braking.
See, when you hit the brake pedal, you create pressure in the brake lines, which causes the brake pads to compress around the rotor. This creates friction that stops your wheels from turning. When your brake pads need to be replaced, the metal wear indicator will emit a squeaking sound as it presses against the rotor.
2. NEW BRAKE PADS
Okay, so you just got a brand-new pair of brake pads and they're still squeaking, now what? Well, sometimes new brake pads may squeak for the first 750 miles or so. This is simply your brake pads and rotors becoming acquainted and should go away once your brake pads are broken in.
3. RUSTED ROTORS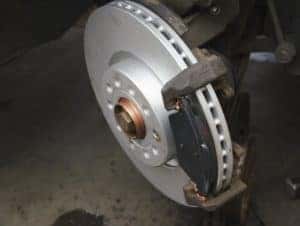 Another cause of squeaking brakes may be rusted rotors. If your rotors are exposed to excess moisture, like heavy rain or a sizeable snowfall, they may develop a thin layer of rust. If these rust particles become embedded in your brake pad, you may hear a squeaking sound. Have a technician look at your rotors as soon as possible if you think this may be the case.
4. LACK OF LUBRICATION
If the squeaking is coming from your rear brakes, you may be experiencing a lack of lubrication. The rear brakes are often drum brakes that stop the car by pressing a shoe outward from the center of the wheel to create friction against the rotating out drum.
If these contact points are dry, you may notice a squeaking noise during braking.
5. METAL IN YOUR BRAKE PADS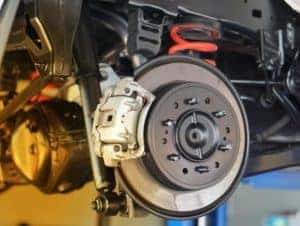 A final reason for squeaking brakes is brake pad quality. More cost-effective brake pads may have a higher metal content, which will rub against the rotor as the pads wear. This is why we recommend investing in high-quality brake pads for your vehicle. If you have any questions about what kind your car needs, feel free to contact the team at our service center.
WHAT DO I DO IF MY BRAKES ARE SQUEAKING?
If you notice that your brakes are squeaking, it's important to schedule maintenance at a factory-certified service center as soon as possible. This way, a team of qualified experts can look over your vehicle and provide you with a proper diagnosis, fix you up, and get you back on the road.
If you're wondering why your brakes are squeaking in the Jenkintown, Abington, and Glenside areas, contact the service center at Faulkner Nissan Jenkintown and we'll get you scheduled for an appointment.